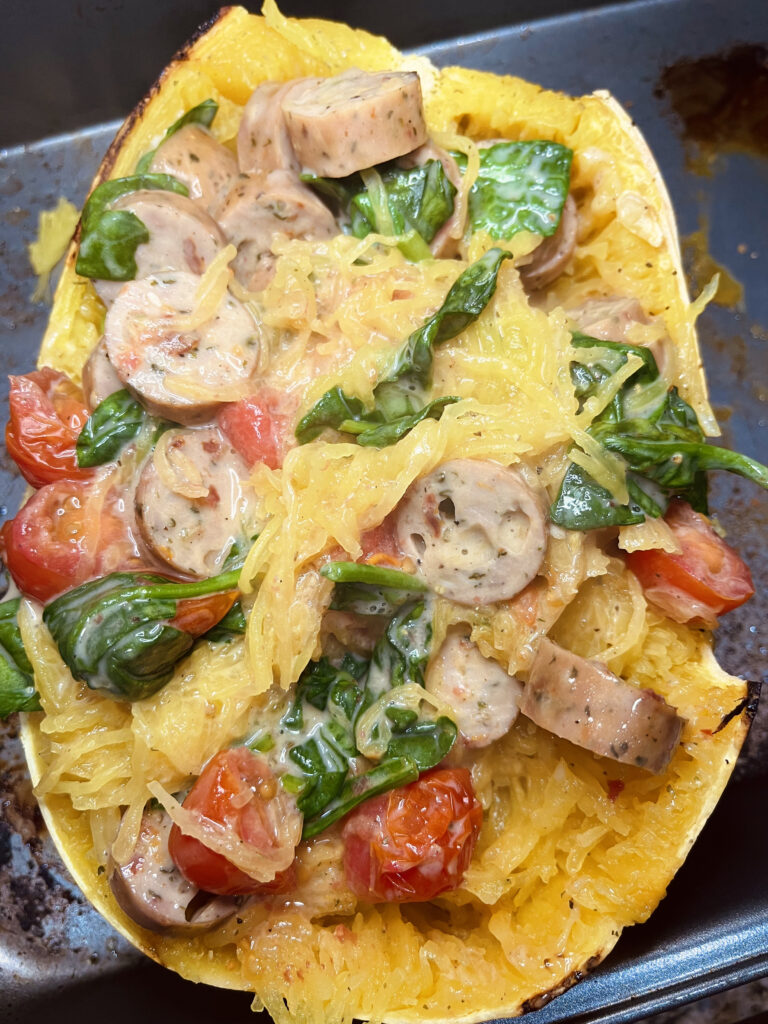 This Sausage Alfredo Boat recipe is so easy to make, healthy, and comforting! It's the perfect simple and satisfying throw together meal if you are on a weight loss journey!
Serves 2
Ingredients:
1 large spaghetti squash
1 pack of chicken sausages (4 total)
2 cups spinach
1 cup cherry tomatoes
1/2 cup Alfredo sauce
Garlic powder, salt, pepper to taste
Directions:
Preheat oven to 425 degrees F.
Slice spaghetti squash in half, if not already sliced (be careful!). Microwaving the spaghetti squash for 8 minutes (4 on the top & the bottom) makes cutting it much easier.
Scoop out seeds from center of spaghetti squash.
Line a baking sheet with parchment paper, spray it with an oil spray.
Bake spaghetti squash, cut side faced down, for 30 minutes.
While spaghetti squash is cooking, slice sausage into coin shapes and stir fry on the stove top with alfredo sauce, cherry tomatoes and spinach on low-medium heat.
Remove spaghetti squash from the oven.
Shred spaghetti squash with a fork, keeping the "spaghetti" strands in the boat.
Add sauce, sausage, spinach cherry tomatoes mixture and seasonings to the boat, mix contents together.
Bake for another 5 minutes, then broil for 3 minutes.