How Wellpower Method Goes Beyond Just Weight Loss...
Alyssa L, 37, mom of two twin daughters, full-time teacher and pregnant from Upton, MA
Main goal(s): I'd like to feel good in my clothes – excited to go out with my husband or meet up with friends. Sometimes I avoid this or don't look forward to it because I feel embarrassed or crappy about myself and how I look. I've missed out on experiences because of this. I want a long-term healthy relationship with food, food freedom and overall confidence with my physical appearance. I need help with where intuitive eating meets portion control meets balanced meals. With that relationship, I want (in time) sustainable weight loss. Like I mentioned above, with weight loss I think I'll enjoy my life a little more because I'm hoping it won't be at the forefront of my mind. I want to love my body and appreciate it for all that it is, not that it isn't. I want to take care of it so that I can model that authentically for my kids. I want to feel proud of my body and stop looking for the next quick fix. 
Where were you before starting the program nutritionally?
Before working with Gabby, I was a classic yo-yo dieter who had tried every diet and program known to man. I was uncomfortable in my own skin and out of control with my eating and wellness habits. I constantly felt tired and unmotivated, and lived by the phrase, "the diet starts Monday."
Talk about your wins since starting the program
Where do I begin?! I've really learned that small, manageable changes in daily habits lead to both big and small wins, and I've learned to celebrate the small wins. I've stopped beating myself up about presumed failures. I think my biggest takeaway is my self- awareness, growth with regards to self-control, and overall relationship with food.
What would you tell a person if they were thinking about joining Wellpower Method?
Do it and do it now! Don't wait! Gabrielle is an incredible coach. She's with you every step of the way and is so responsive to anything and everything you need. She tailors a plan that is specific to your needs and encourages you in a way that is so positive and motivating, while providing you with the tools you need to be successful in the long run. I was scared to put myself out there, but I'm so grateful to be a part of Gabby's work and Wellpower community.
Dianna S. 49, passionate health food junkie who is tired and looking for answers to her health from Rowley, Massachusetts
Main goal(s): Balance my hormones/immune system and increase energy and metabolism (food), get rid of my mental fog. Feel comfortable in my body again. Get normal feelings back. I want signals from my body- I feel numb. I want my life and body back so I can enjoy my Life and be happy!


Where were you before starting the program nutritionally?
I was exhausted, eating in the middle of the night, had restless leg syndrome, was very cranky, couldn't concentrate, stressed out, foggy brain, and never satisfied with eating! I felt lousy, and was never sleeping and had no energy! I was only eating the same foods and skipping meals. I never thought about feeding my body correctly a priority.
What would you tell a person if they were thinking about joining Wellpower Method?
This is the best program I have ever done! Gabrielle is a wealth of knowledge and a great teacher. She has taught me the root cause to all my nagging, wits end health ailments and helped me to heal through eating good food. She taught me that here is no such thing as bad food — once you learn to balance your macro and micro nutrients. This program teaches you about everything — from whole body connection to getting all your vitamins and minerals in daily while accomplishing your own personal goal of either losing, gaining, or maintaining your weight. I eat more now that I have ever eaten and I'm healthy! Mens sana in corpore sano — A health mind in a healthy body.
"I am SO GLAD I worked with Gabrielle to figure out my food sensitivities and learn better habits..."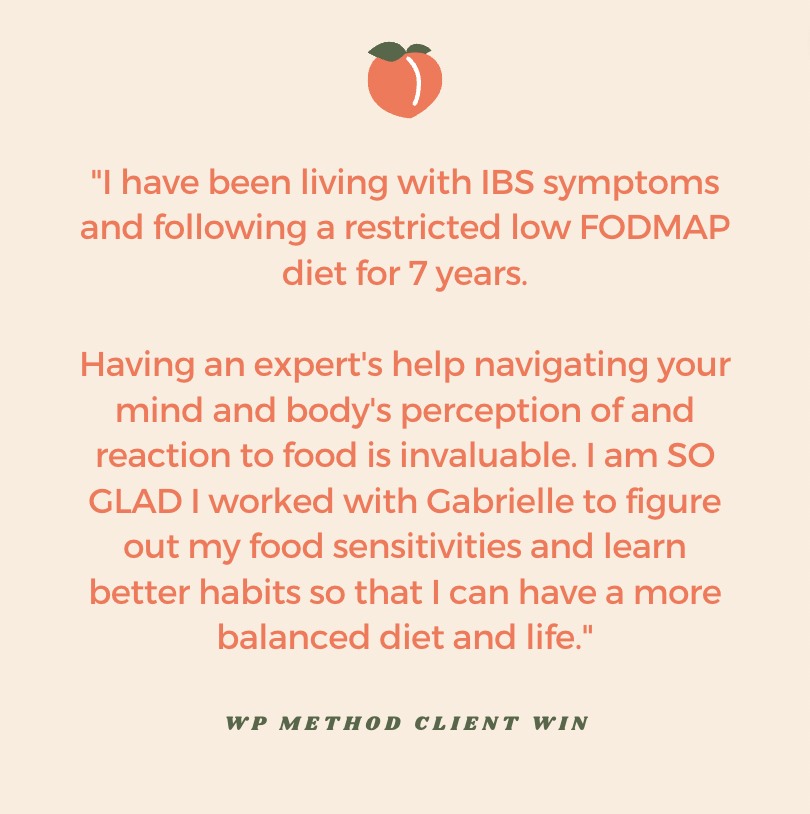 "I'm proud of my mentality. That I can start over at any point and I don't have to wait for the next day..."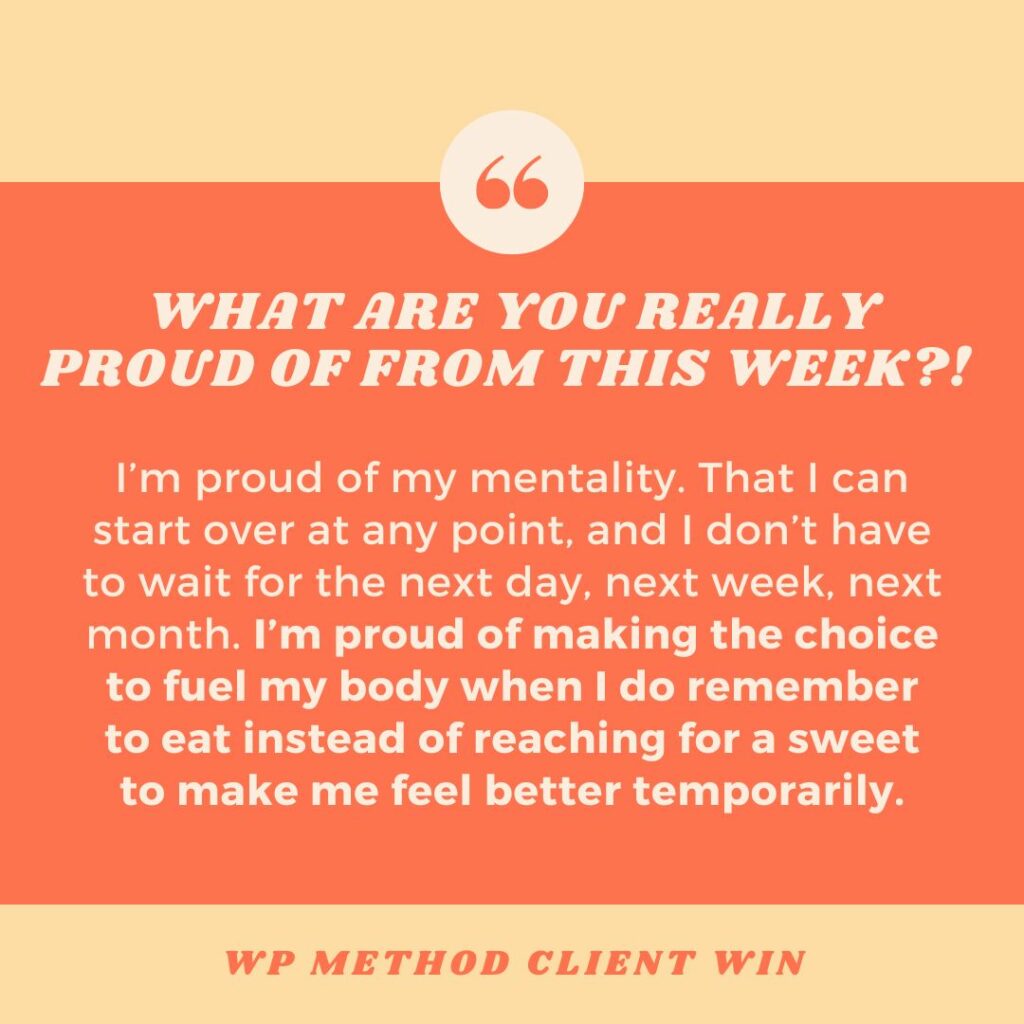 "Just really pleased with my ability to sustain good habits."

"It really felt goood to feel like I am adopting a new lifestyle rather than "sticking to a program."

"You quite possibly saved my future fertility and for sure saved my current and short term physical and mental health."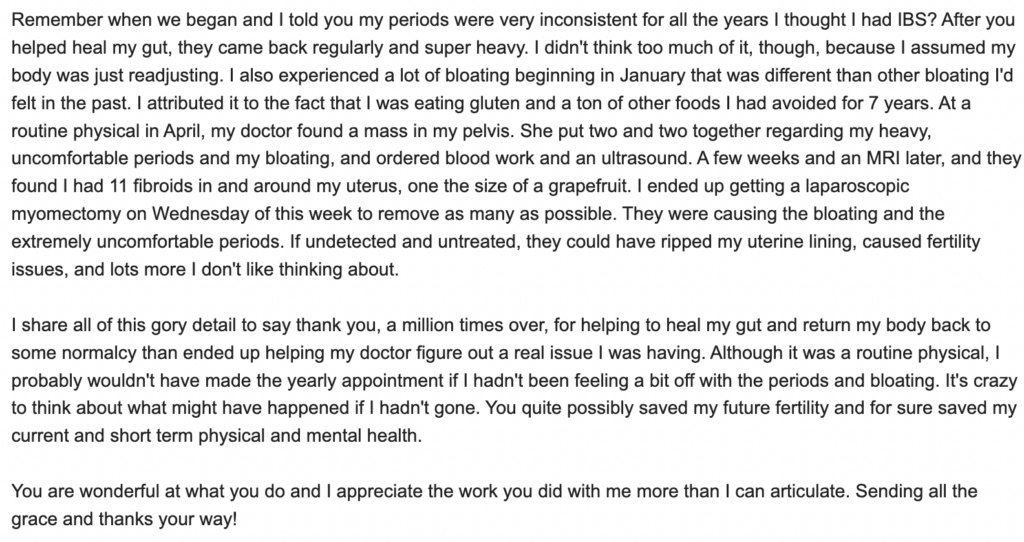 "I hoped and knew in my gut that working with you was a good thing and would be what I needed in my journey to health."

"I am able to work on my whole self beyond nutrition."

"Setting boundaries can be very hard for me but I did it because this program and the work we are doing is making me believe I am worthy."

"This is the first time in my life I've really felt this way after wanting to feel this way for so long - THANK YOU!"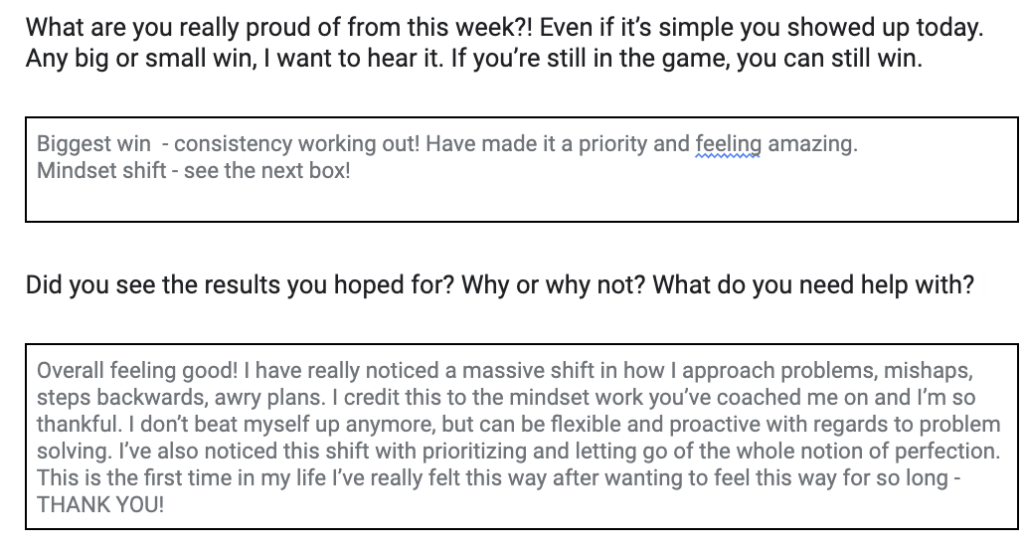 "I overcame all of that and now I'm smiling almost everyday."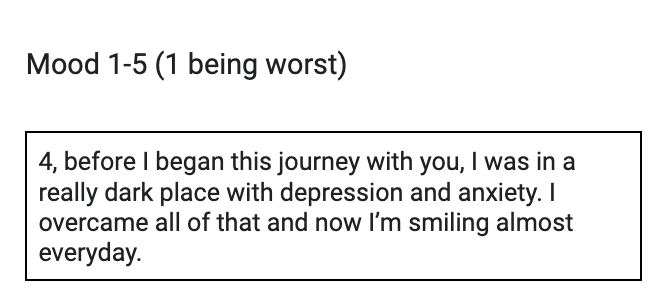 "When I started Wellpower I thought I was only going to get nutrition coaching. It has turned out to be so much more."

"Feeling very much in control and it feels awesome!"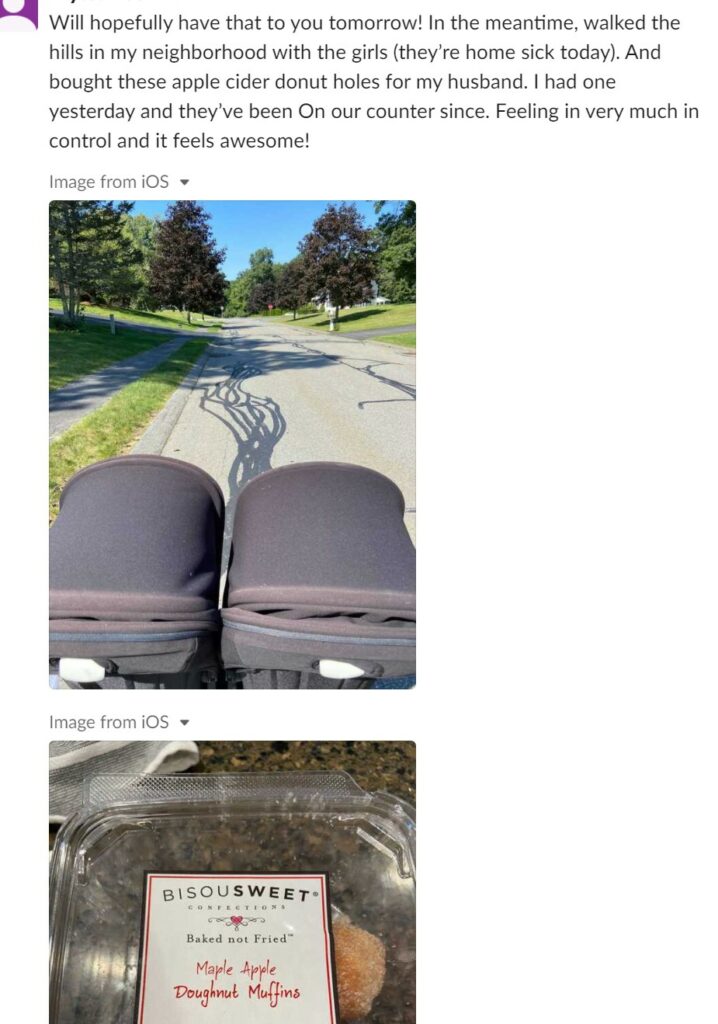 "Yes for sure. Mentally and physically I feel like a different person than I did a few months ago."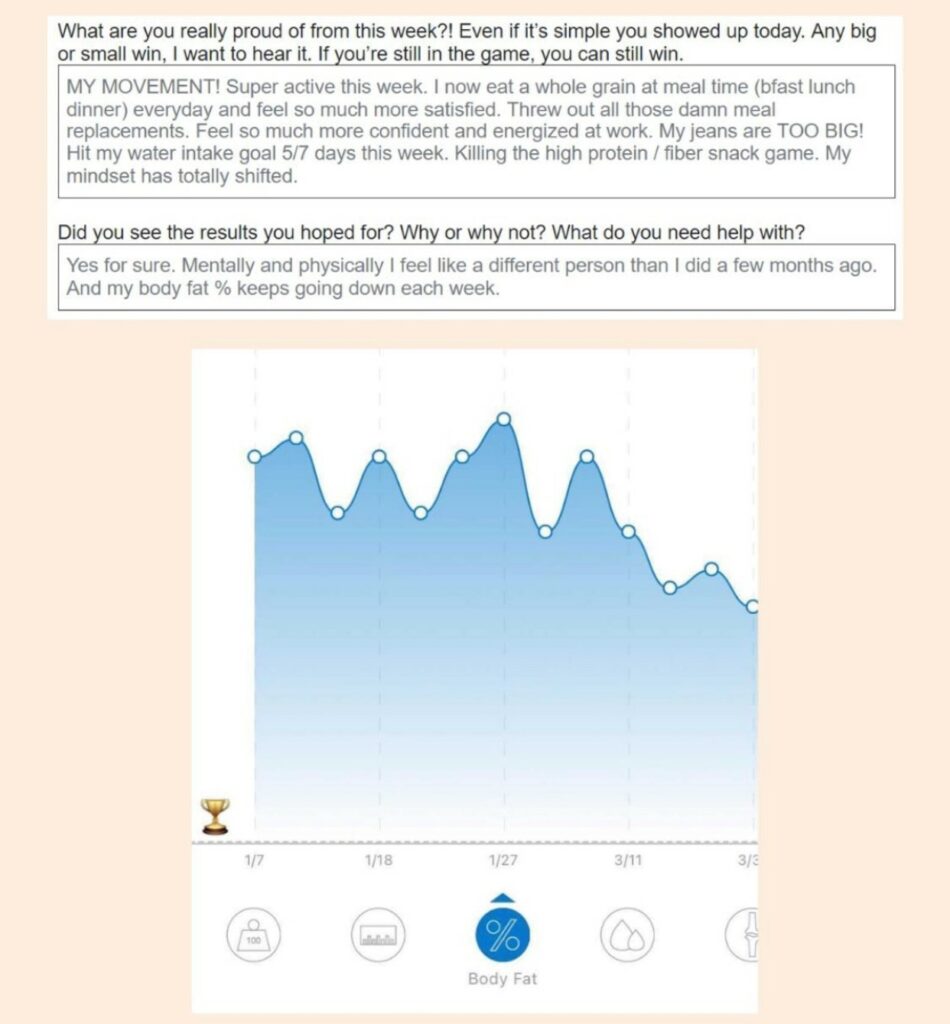 "To my surprise, I felt more in control than I originally thought I would have felt."

"I am feeling more in control of my eating and choices."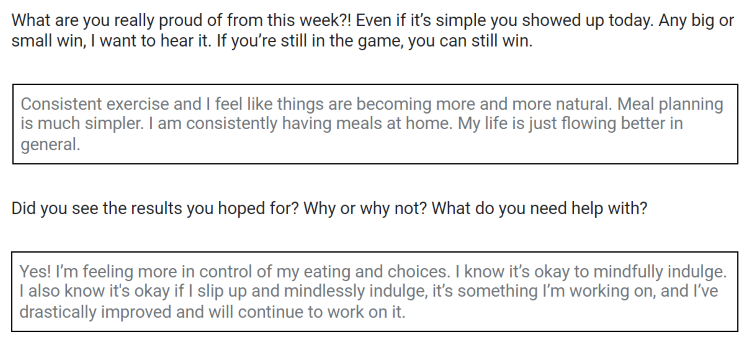 "I feel like certain food choices/habits are ingrained in me rather than having to actively think through for each meal."

"When I started Wellpower I thought I was only going to get nutrition coaching. It has turned out to be so much more."

"I'm a freaking pilates instructor now!!!"

"I listened to my body, didn't fall into bad old patterns of eating when I was sick."

"I made an effort to walk every day and consistently did pilates 3 times a week."

"Was able to hit a heavy lift I haven't done in over a year."

"I am drinking red wine, I am feeling good, my skin is clear, my mind is clear."

"This new mindset is working well for me as I usually end summer up a few pounds and I have actually been losing!:)"

"I really look forward to movement/exercise because it makes me feel good. I'm not doing exercise because I have to, but because I want to."

"I can tell a difference in my stress level and how I'm dealing with stress and I'm really proud to be "exactly where I'm meant to be".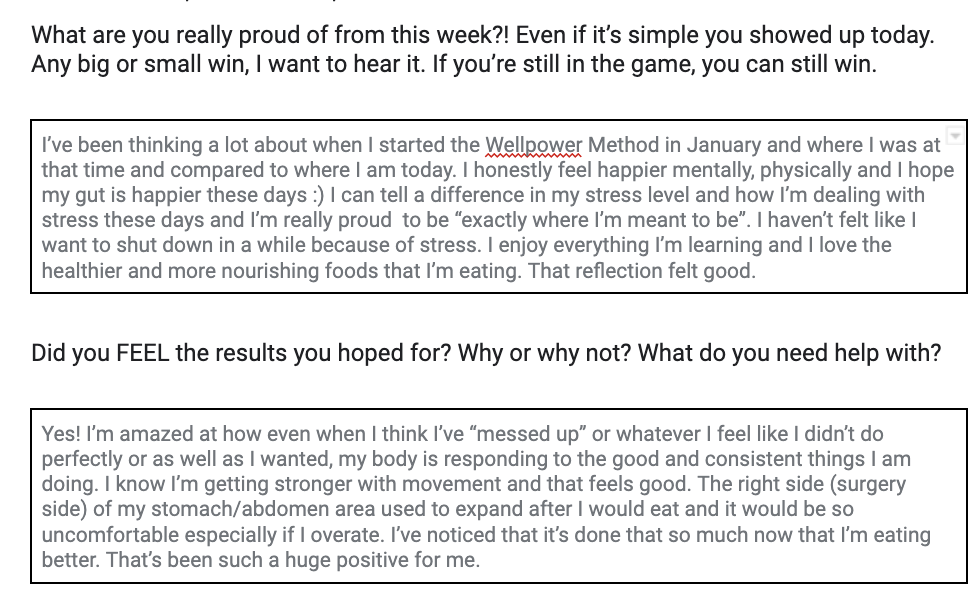 "My brother...looked at me with honestly with tears in his eyes and told me he was so incredibly proud of me...he wanted me to realize how far I've come."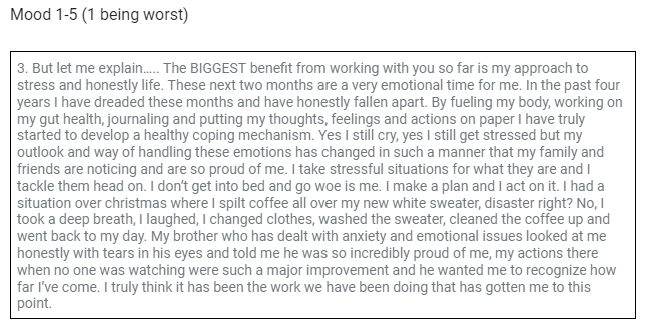 "Going down on my anxiety meds because my mood has been stable for months with no panic attacks!"