Healthy, Sustainable Weight Loss Wins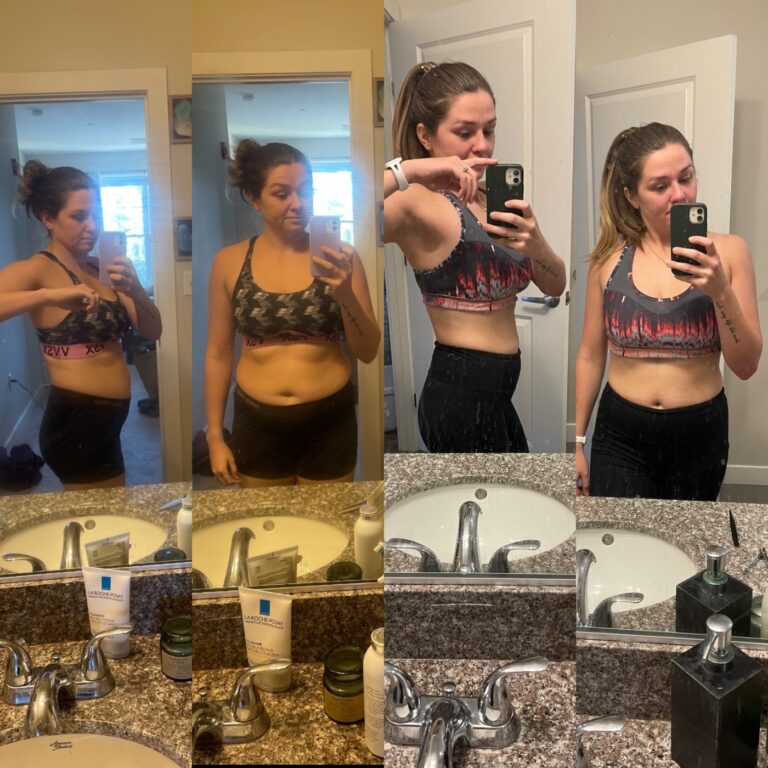 Dianna S. 49, passionate health food junkie who is tired and looking for answers to her health from Rowley, Massachusetts 
Main goal(s): Balance my hormones/immune system and increase energy and metabolism (food), get rid of my mental fog. Feel comfortable in my body again. Get normal feelings back. I want signals from my body- I feel numb. I want my life and body back so I can enjoy my Life and be happy!
Where were you before starting the program nutritionally?
I was exhausted, eating in the middle of the night, had restless leg syndrome, was very cranky, couldn't concentrate, stressed out, foggy brain, and never satisfied with eating! I felt lousy, and was never sleeping and had no energy! I was only eating the same foods and skipping meals. I never thought about feeding my body correctly a priority.
What would you tell a person if they were thinking about joining Wellpower Method?
This is the best program I have ever done! Gabrielle is a wealth of knowledge and a great teacher. She has taught me the root cause to all my nagging, wits end health ailments and helped me to heal through eating good food. She taught me that here is no such thing as bad food — once you learn to balance your macro and micro nutrients. This program teaches you about everything — from whole body connection to getting all your vitamins and minerals in daily while accomplishing your own personal goal of either losing, gaining, or maintaining your weight. I eat more now that I have ever eaten and I'm healthy! Mens sana in corpore sano — A health mind in a healthy body.
Julia M, 28, young professional and bride-to-be from Boston, MA
Main goal(s):
1) lose weight and feel comfortable and confident in my skin
2) find consistency in my eating habits and learn how to properly fuel my body (even on the wknds!)
3) balance my hormones as best as I can, naturally
I want to be less uptight – I want to be happier in life, happier with myself, have a better intimate life with my fiancé, worry less about things that don't matter (like the sink full of dishes, the pile of laundry, the dirty floors and the dust clumps in the corner). I stress eat or get so stressed out that I don't eat – and I worry about everything else like the sink full of dishes and making sure other people are happy and fed and have their meals (cough cough fiancé doesn't cook). I put everyone's else needs before my own – and it's caused me to become pretty uptight.
Where were you before starting the program nutritionally?
A classic yo yo dieter who sought the easy fix with little understanding of how my body actually breaks down the food I consume and how it effects aspects of my life beyond my weight. I had horrific skin, lots of inflammation, fatigue and a general sense of hopelessness that this is just how I was and I couldn't change it.
Talk about your wins since starting the program
I've had a lot of success outside the scale – my skin cleared up, I don't feel as inflamed, my cycle is regular and I'm at a place where I am finally able to make the healthier choice when I'm faced with tempting situations.
What would you tell a person if they were thinking about joining Wellpower Method?
Gabby is the best! She never lets you fail, continues to cheer you on and always finds new tips and tricks to try to keep you progressing.
Melissa P, 34, busy mom and teacher from LA, California 
Main goal(s):Establish a healthy, balanced eating routine. This would include a collection of go-to meals/recipes that I can prep weekly that will allow me to have healthy options throughout the week. I would like to learn how to use food to nourish my body, instead of using food for emotional support. I would like to find a way to fit activity into my day everyday. 
Where were you before starting the program nutritionally?
I've always struggled with my weight and living a balanced healthy lifestyle. I've always been to one extreme or the other. I'd eat super healthy or indulge way too much. I'd exercise all the time or not at all. This was an exhausting roller coaster! I felt exhausted, stressed, and unwell all the time.
Talk about your wins since starting the program
I can keep a box of cookies on the kitchen counter, and I won't gobble them all up! Never in my adult life have I been able to keep treats in my home. Now, I'm able to mindfully enjoy foods without losing control.
What would you tell a person if they were thinking about joining Wellpower Method?
Working with Gabrielle has taught me so much, and I am so grateful to be able to work with her. This program encompasses all aspects of health and wellness. I wouldn't be where I am today if I had tried on my own. I finally feel a sense of balance in my life, and that feeling is priceless.
Lindsey A, 32, North Boston, bride-to-be
Before working with Gabrielle, I was struggling with balance. In 2020 I began counting macros and went on a high protein regimen while doing heavier weightlifting. It completely screwed up my perception of a balanced diet. I wanted to shift my mentality and also lose a few pounds/tone up before my wedding.
Although I am healthy and relatively fit, I realized that my relationship with food needed more work than I thought. After my phone screen with Gabrielle, I also realized that she could help me figure out my true dietary restrictions, as I had never been formally diagnosed but had been living believing I have IBS and therefore following a restricted low FODMAP diet for about 7 years.
The possibility of reintroducing foods I love but had been avoiding for so long was too exciting not to give it a shot!Having an expert's help navigating your mind and body's perception of and reaction to food is invaluable.
I am SO GLAD I worked with Gabrielle to figure out my food sensitivities and learn better habits so that I can have a more balanced diet and life.
"A little over 6 months ago I had a heart attack. It was a great wake up call… I want to thank everyone that has helped me in my recovery… Of course I couldn't have done it with out my nutritionist . She has showed me how to eat healthy and enjoy it. She is a great motivator and has a ton of knowledge."
"Down 17 lbs. Clothes continue to fit better (actually, they're too big!)"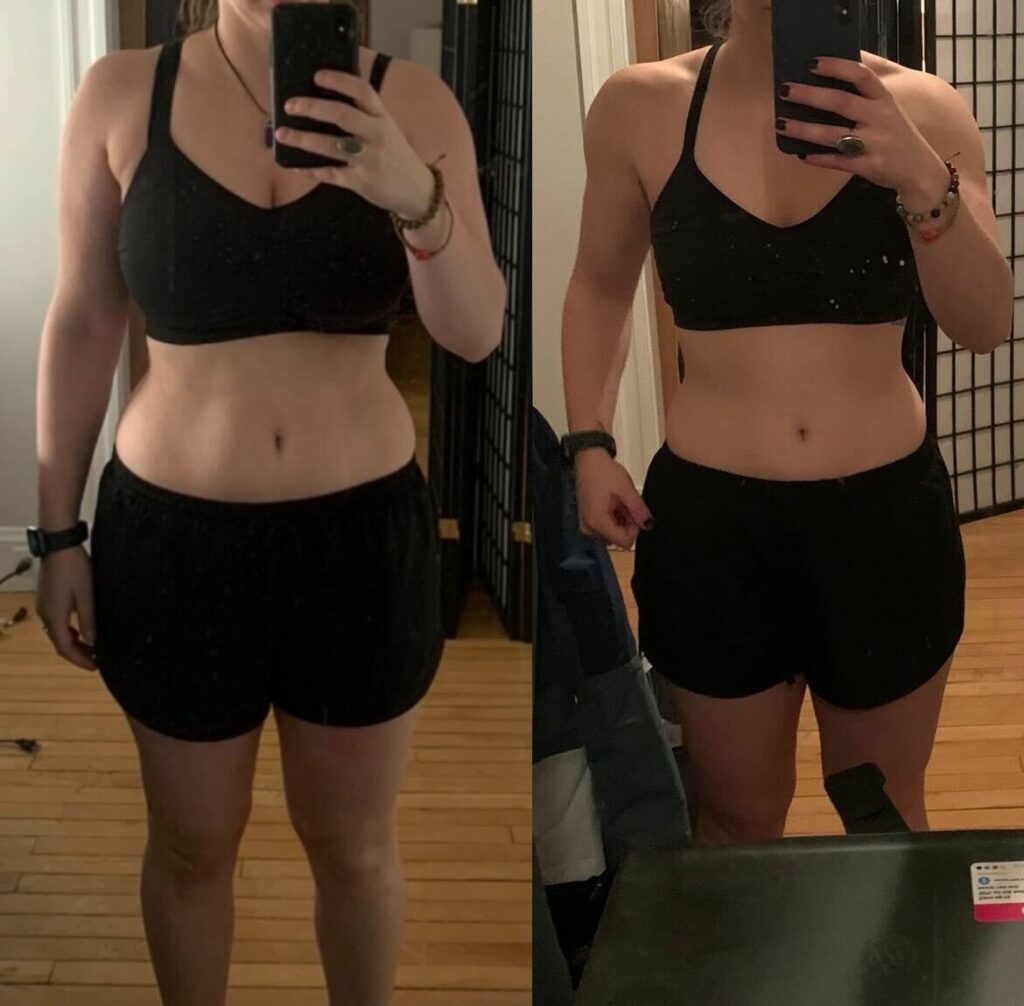 2 weeks down 3.8 pounds and body fat percent! 9.5k steps in one day!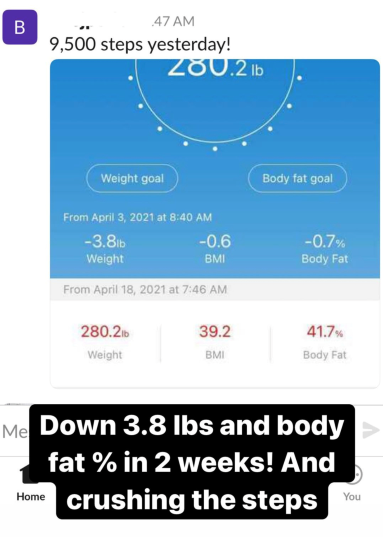 "I didn't track once this vacation and saw the scale go DOWN."
"When I look in the mirror I see a woman who is FINALLY taking care of herself..."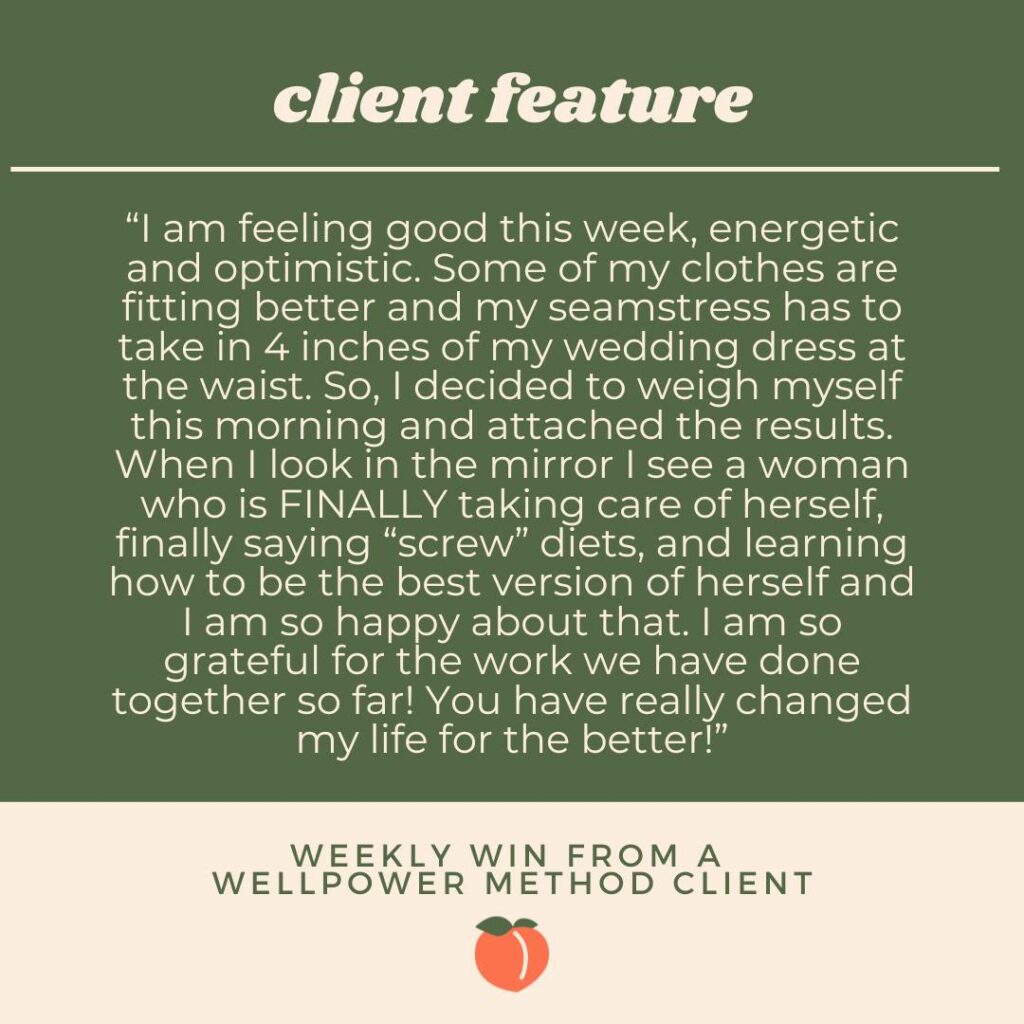 3 weeks down 6 pounds and 1.2 body fat percent!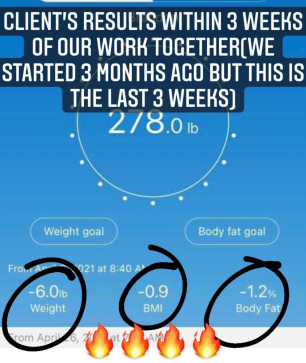 1 week down 1.8 lbs and body fat percent!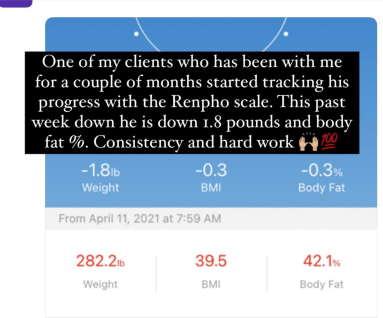 "My brother...looked at me with honestly with tears in his eyes and told me he was so incredibly proud of me...he wanted me to realize how far I've come."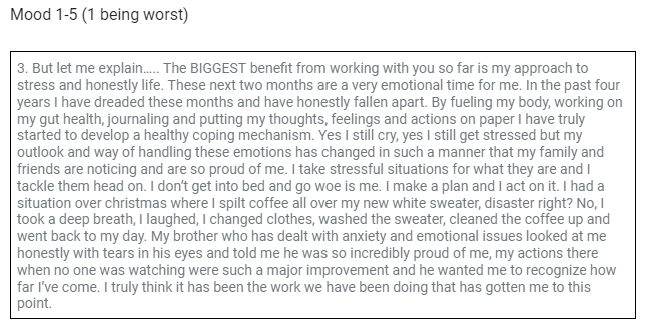 "I wasn't hungry and thought it out and realized I didn't need it. I was so proud....I am known to demolish food at night."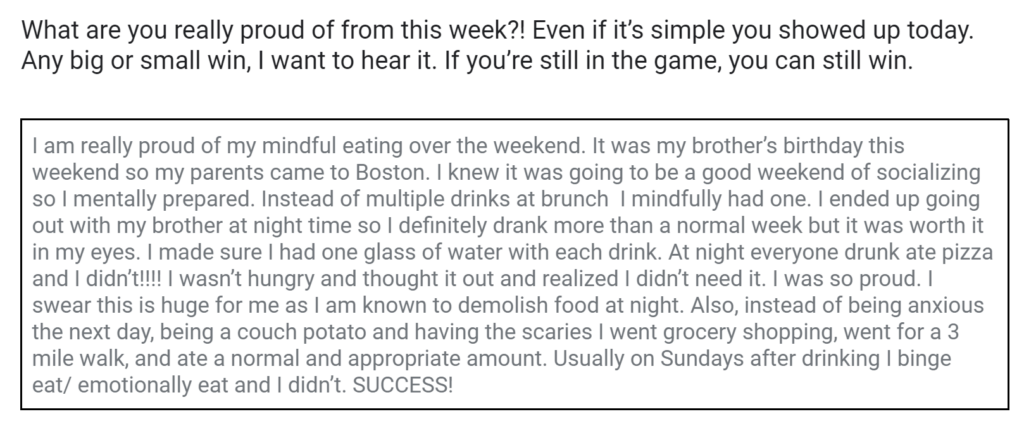 "I didn't feel deprived of anything. I was able to enjoy the trip without worrying or thinking about food at all. It was such a blast."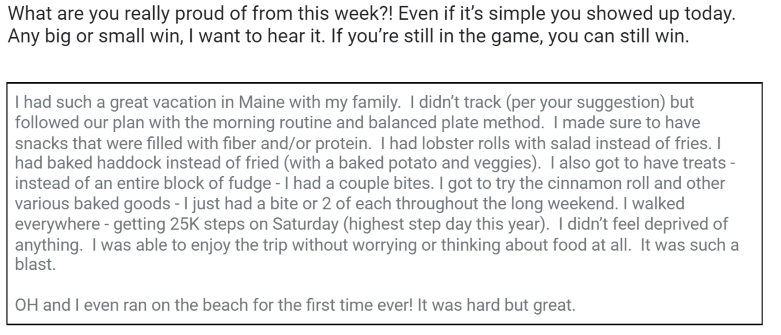 "Down 17 lbs. Clothes continue to fit better (actually they're too big!)"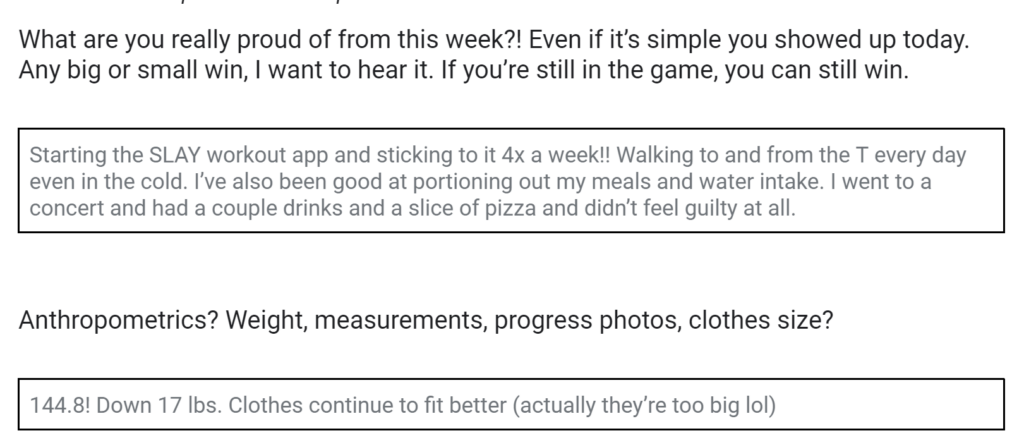 "Had chicken parm and wine in the north end last night." while down 6.6 lbs and 1% body fat!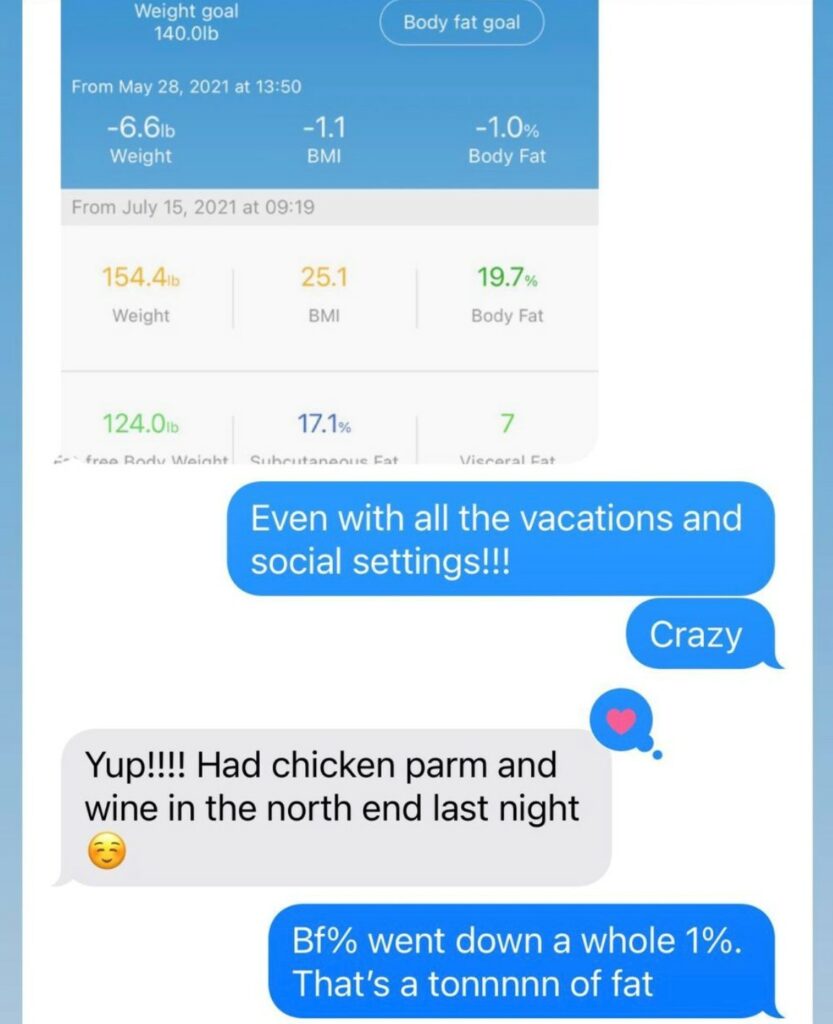 "I never thought I'd be able to consistently recognize hunger cues and the feeling of fullness. I didn't track once this vacation and saw the scale go DOWN."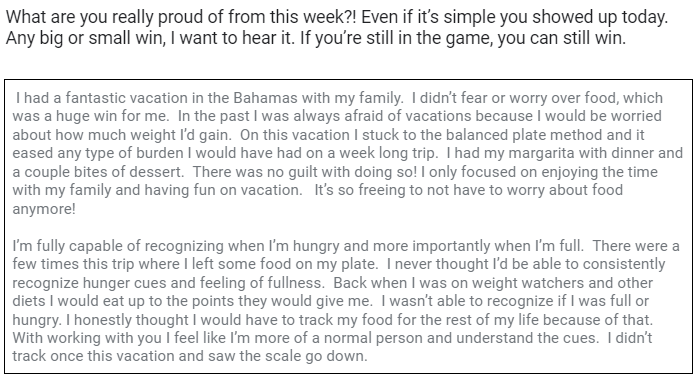 "Saw a picture of myself for the first time in weeks that I didn't hate! One of my friends said she noticed I was making changes and that they showed"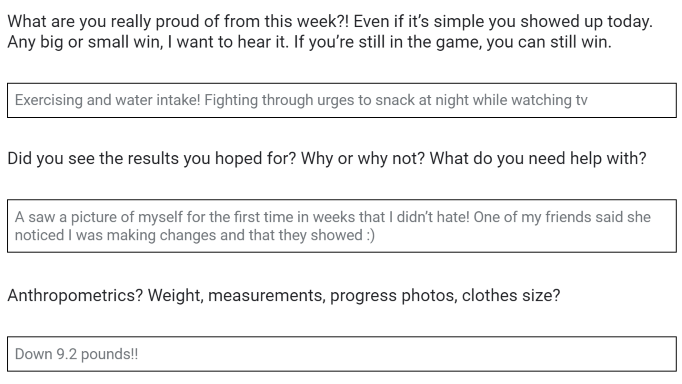 "In the past I feel like I would handle eating out under 2 extremes (excessive or dieting). This time around I just thought of the eating out tips you provided as well as the balanced meal concept... I enjoyed eating out."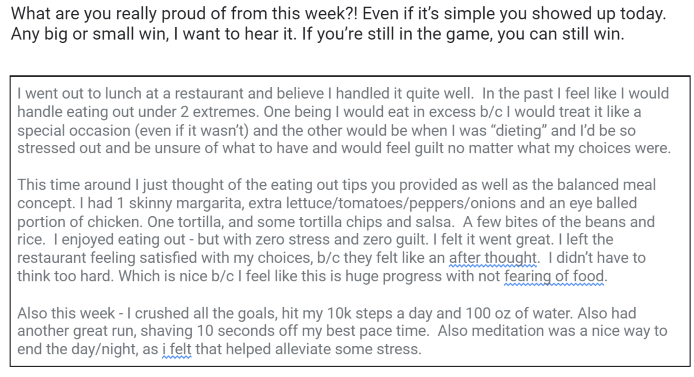 "I didn't worry or stress over what I was eating... there were no restrictions or good or bad food mentality."

"[Down] 15.2!!!! Started buying a size smaller in my clothes."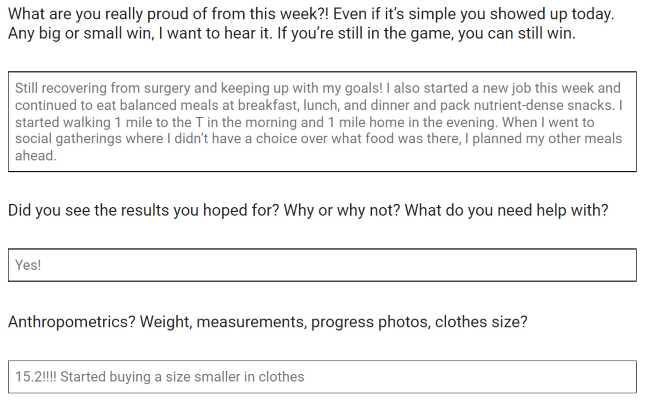 "I felt really organized with meal planning and it really helped to make the week run smoothly! Snacking at night was much more in control."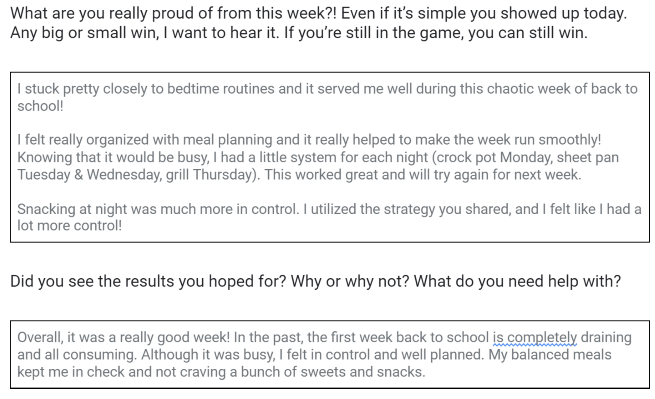 "I tried on a bunch of summer clothes that I haven't worn in over a year and looked really good in them!"

"The scale went down, hit my water intake and had balanced meals."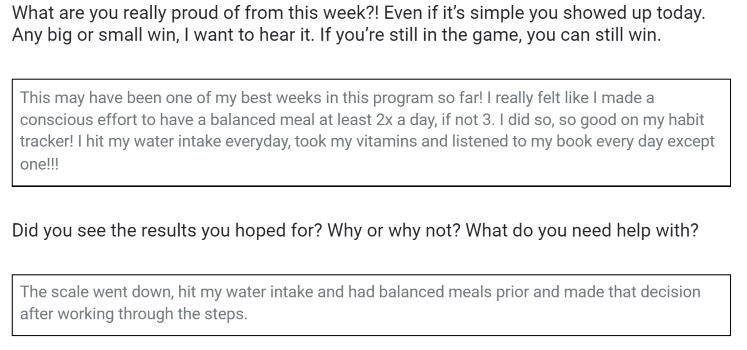 "Noticed when I wanted to eat out of boredom or when I previously would've just kept snacking because I had nothing else to do..."

"I felt SUPER confident on my trip... I ate really balanced, make plans for eating out and packed a ton of healthy snacks."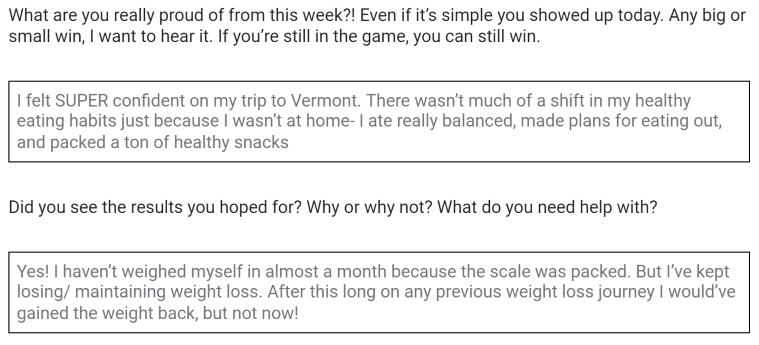 "In the past the bag [of chocolate chips] would have been lucky to last a day or two in my pantry. It's been in there for 2 weeks and I haven't felt the temptation or need to devour it."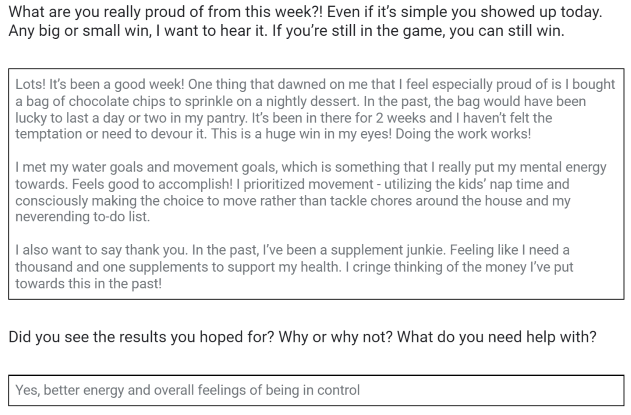 "when I got to the end of the day I realized that I had eaten mindfully the whole day!"

"I've been consistent with balanced breakfasts, and have posted [in the private facebook community group] for the breakfast challenge. This is a fun way to stay accountable"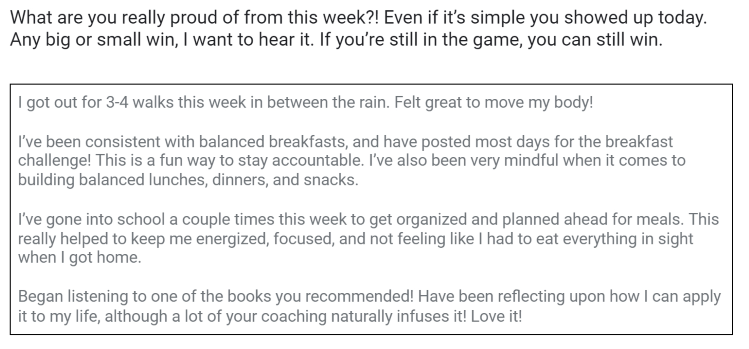 "I used to go to bed so incredibly full that it would take me hours to fall asleep and the next day I'd wake with a "food hangover". Not anymore!!"

"Maintaining my weight through the holidays!"

"I've 1000% begun to see changes in the types of foods I WANT to eat now. I want to fill my body with balanced foods, and can definitely feel when I go autopilot..."