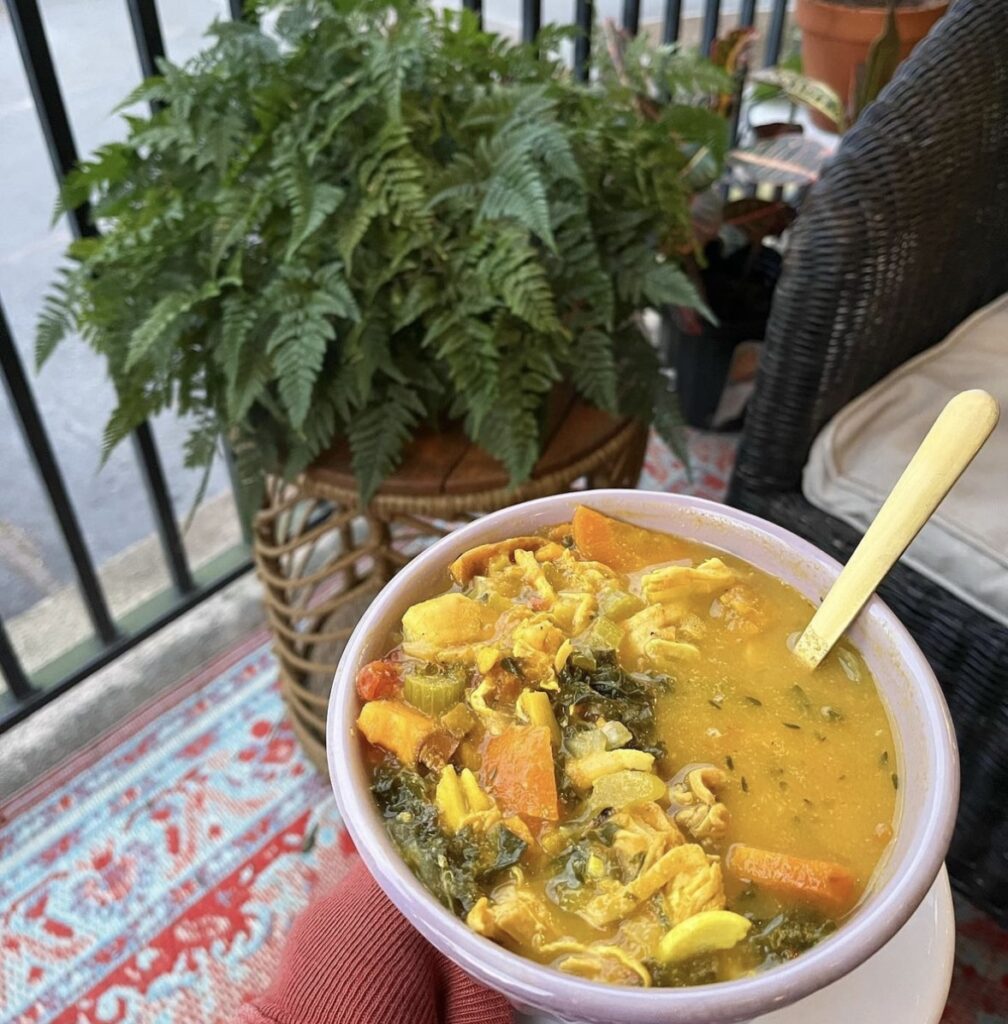 This garlic, ginger, turmeric chicken soup is SO good for your immune system, gut health, inflammation, skin health, and so much more! This soup is loaded with flavor and will keep your body feeling healthy and strong year round!
Ingredients
2 tablespoons ghee or avocado oil
1 small onion diced
6 stalks of celery diced
6-9 cloves of garlic minced
1 tablespoon fresh grated ginger
2 medium sweet potatoes (about 1 pound) cut into 1-inch cubes
2 pounds boneless, skinless chicken breast
5 cups chicken broth or bone broth
1 teaspoon fresh thyme chopped
½ teaspoon coarse sea salt
¼ teaspoon black pepper
1 bay leaf
1 tbsp ground turmeric
1 cup Cailfa toasted coconut almond milk (or any milk of choice)
1 head lacinato kale de-stemmed and roughly chopped
2 tablespoons lemon juice
Instructions
Melt the butter in a large, heavy-bottomed pot over medium-high heat. Once the butter is melted, add the chicken. Cook for 3-5 minutes per side until browned, then remove from the pan and set aside.
Add the onion and celery to the pot and cook for 5-7 minutes, until both are browned and the onion is translucent, then add the garlic and ginger and saute for about 1 minute, until fragrant.
Return the chicken to the pot along with the sweet potatoes, then stir in the chicken broth, thyme, salt, pepper, bay leaf, and turmeric.
Cover and simmer over medium-low heat for 30-40 minutes, until the chicken can be easily pulled apart with a fork.
Pull the chicken from the pot and shred with two forks or with the paddle attachment of a stand mixer. Add the chicken back to the pot then stir in the milk and kale. Cook for 2-3 minutes until kale is fully wilted.
Add the lemon juice and then taste the soup for seasoning, adding additional salt and pepper if needed. Spoon into individual bowls and serve!