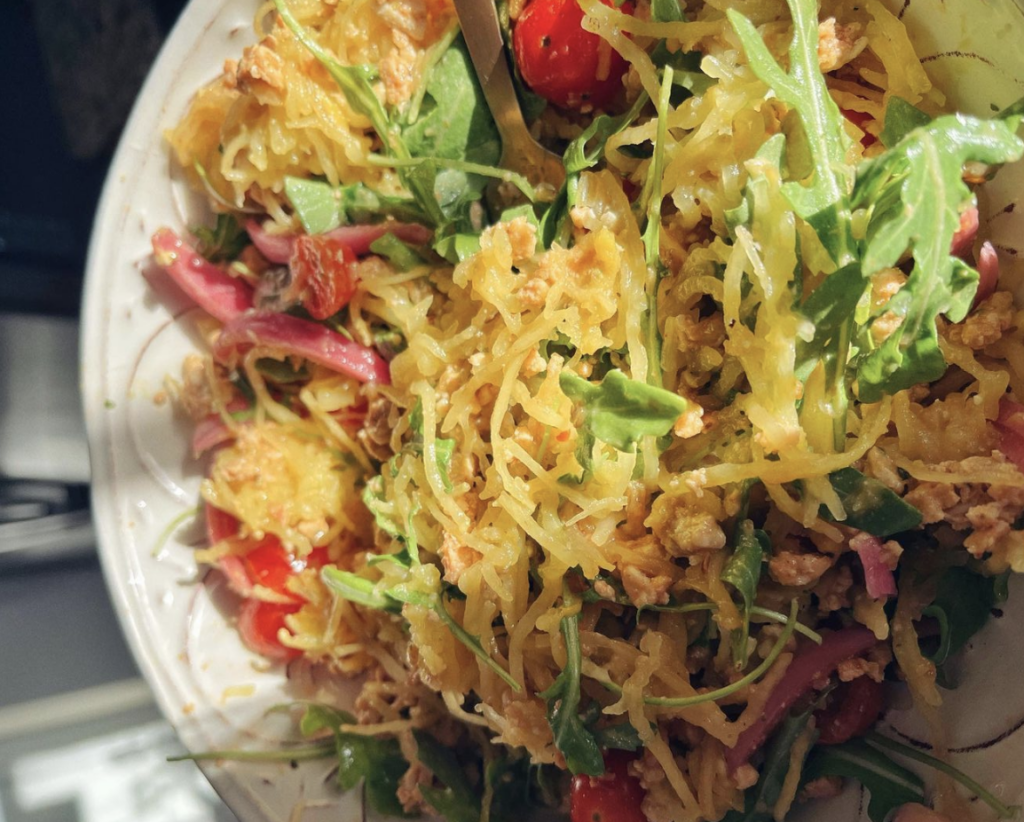 Everyone loves a cilantro lime spaghetti squash bowl.
Spaghetti squash is one of my go-to healthy dinners when I am lazy. You toss all the ingredients you have with some spaghetti squash and you're good to go!
Here's what's in it:
– Spaghetti squash
– Ground Turkey 99% lean and cooked with taco seasoning, garlic powder and sea salt
– Cherry tomatoes
– Cilantro lime dressing from Trader Joe's
– Pickled red onion
– Salsa
– Cojita cheese
– Fresh squeezed lime juice
– Handful of arugula
It's as easy as…
Cook the ground Turkey. Cook the spaghetti squash. Combine with the rest!
👏🏼
How to cook the squash:
1. Poke the spaghetti squash several times with a knife and microwave whole for 5 minutes. You can skip this step and roast longer, but I like to make the cutting easier, and speed up the roasting process.
2. Cut off the tougher end with the stem, and then cut the squash in half lengthwise. (You can also cut across the shorter axis if you prefer longer noodles.) Place on a parchment-lined baking sheet, spray with a mist of oil spray and sprinkle liberally with kosher salt and pepper. Flip them face down and roast for 20-25 minutes at 375. If you skip the microwave, roast for about 45 minutes until slightly tender.
3. Flip them over right after you pull them out so they don't continue to steam. Using a fork, fluff and pull the squash into strands.