Throughout the month of August, members of the Wellpower Method community participated in a month-long challenge to stir up some tasty balanced breakfasts every morning. 
The main goal of this challenge was to encourage people to make balanced breakfasts and show that healthy breakfasts can be tasty, yet nutrient rich! And simpler to make than one may think.
If you ever find yourself struggling to wrap up a healthy balanced breakfast in the mornings, just know that all you need is a fruit or veggie, whole grain or starchy veggie, healthy fat, and a source of protein. Read into my blog The Real Reason You Should be Prioritizing Breakfast for more details into why breakfast is the most important meal of the day!
Tons of recipes were shared and posted on to the Facebook community group and Instagram by tagging @wellbygabrielle and #balancedbreakfastchallenge. 
This blog has all the inspiration, healthy, and delicious recipes you need created by our wonderful and creative breakfast challenge participants!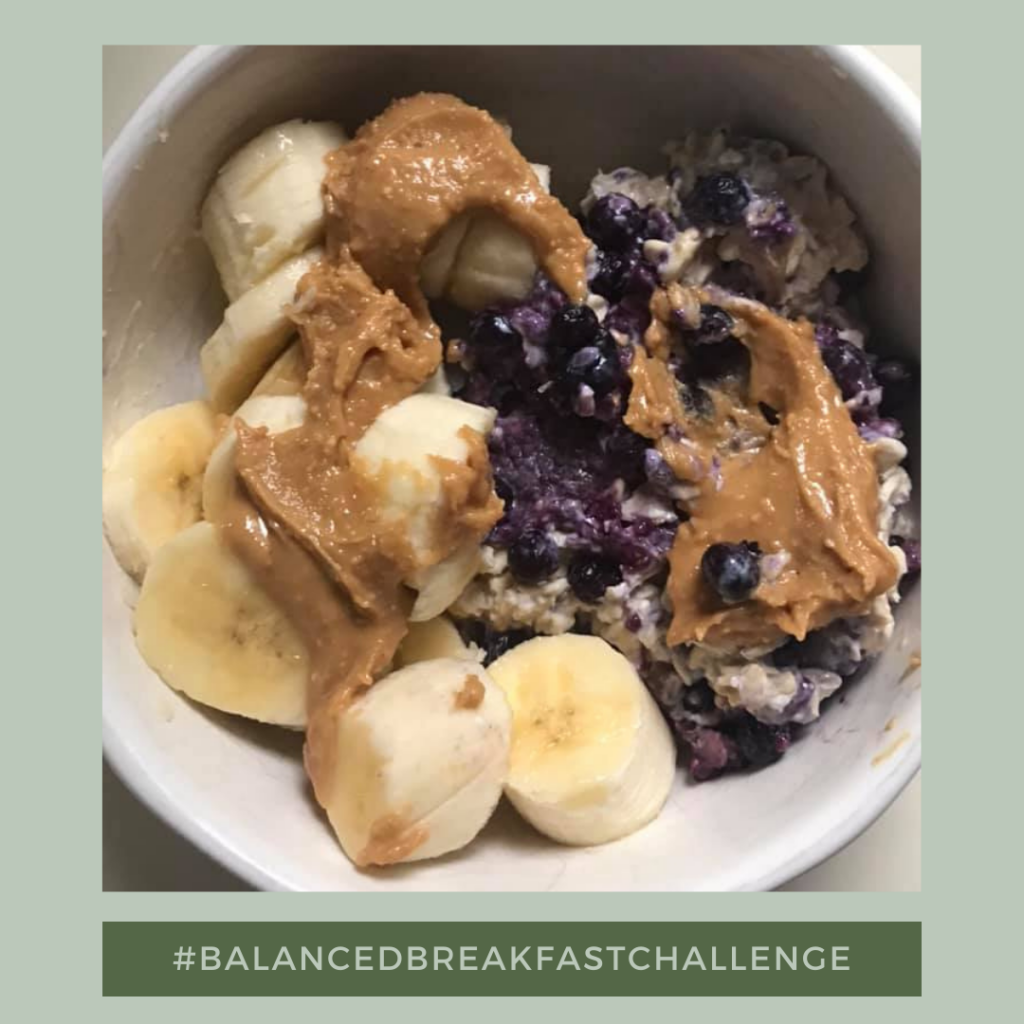 Peanut Butter Oatmeal with Berries by Olivia V.
Oatmeal cooked with almond milk

1 tbsp peanut butter

1 tsp chia seeds

Handful of strawberries
Strawberry Peach Overnight Oats by Olivia V.
Oats

Peanut butter

Diced peaches

Strawberry jam

Chia 
Banana, Blueberry, and PB overnight oats by Allison M.
Blueberries

Banana

Peanut butter

Oats
Cinnamon Blueberry Oats By Ann D.
Oats

Cinnamon

Blueberries

Almond milk

Chia

Hemp

Almond butter
Loaded Probiotic Oats by Kristie M.
Oatmeal

Blueberries

Peanut butter

Keifer

Cinnamon

Granola

Pumpkin seeds
Protein Raspberry Overnight Oats by Alyssa L.
Oats 

coconut milk

protein powder

chia seeds

Raspberries
Strawberry Chocolate Morning Oatmeal by Olivia H.
1/3 cup oats cooked with 2/3 cup water 

Chia seeds

Chocolate chips 

Strawberries
Cacao, Banana, and Peanut Butter Crunch Oats by Kristie M.
Oatmeal 

Banana

Peanut butter 

Pumpkin seeds

Chia 

Cacao nibs 
Peach Protein Overnight Oats by Kristie M.
PB 

Chia

Pumpkin seeds

PB powder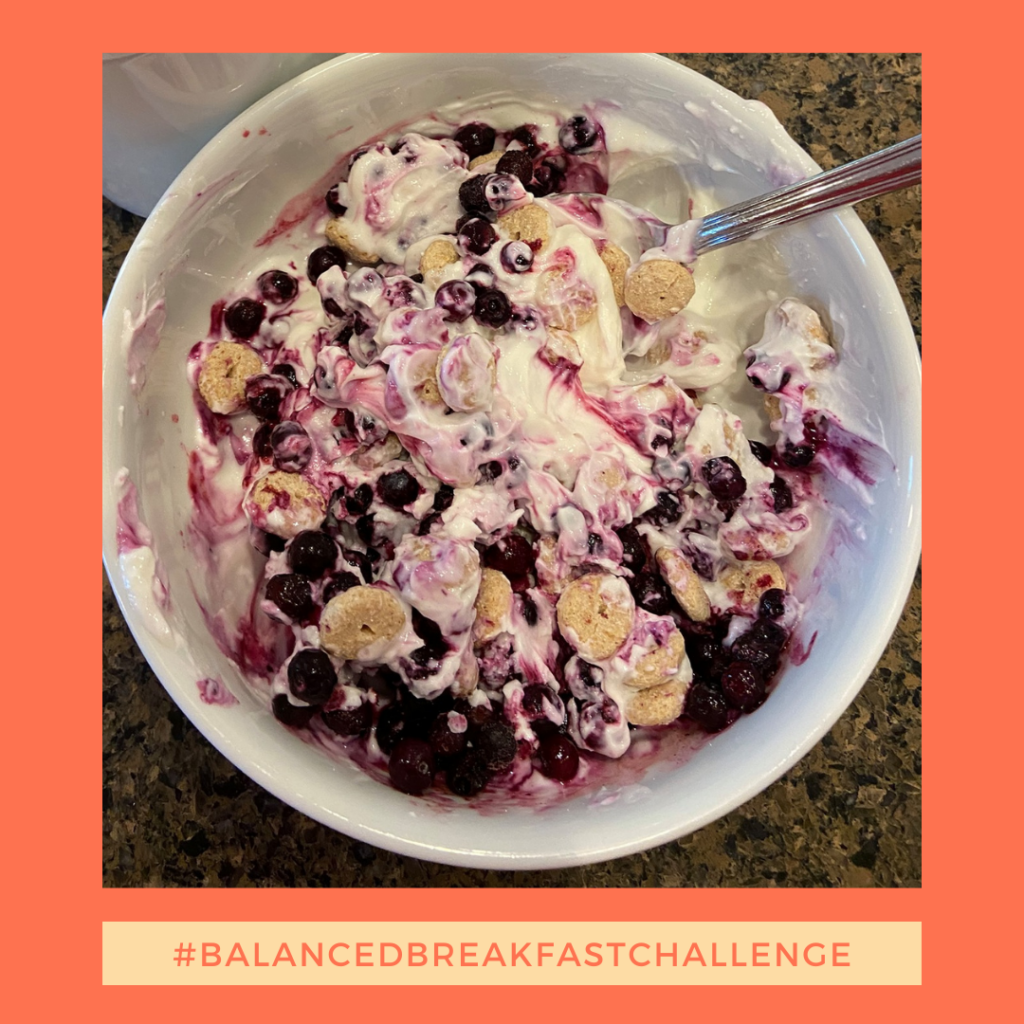 Sweet Cinnamon Blueberry, Butternut Squash, Chicken Sausage Bowl by Charlene M.
Roasted butternut squash with cinnamon and coconut oil

Chicken sausage

Warmed frozen blueberries
Greek Yogurt Bowl by Molly L.
Greek yogurt 

Berries

Walnuts

Flax seeds
Quinoa Power Bowl by Dianna S.
Tri Colored quinoa

Beans

Onions

Artichoke hearts

Clover sprouts

Fermented carrots

Tomatoes

Cucumbers

Yellow and red peppers

Garlic

Purple onion

Green olives

Canola oil

Seasoned with kettle & fire vegetable broth, cumin seed, seasoned pepper, basil, parsley & ionized salt
Fiber and Antioxidant-Rich Acai Bowl by Alyssa L.
Frozen acai blended with banana, almond milk, peanut butter, and frozen cauliflower

Top it off with fiber rich cereal and blueberries
Awakening Matcha Chia Seed Pudding by Olivia H.
Overnight chia seeds in almond milk

Matcha powder

Maple syrup

Vanilla extract

Top with fruit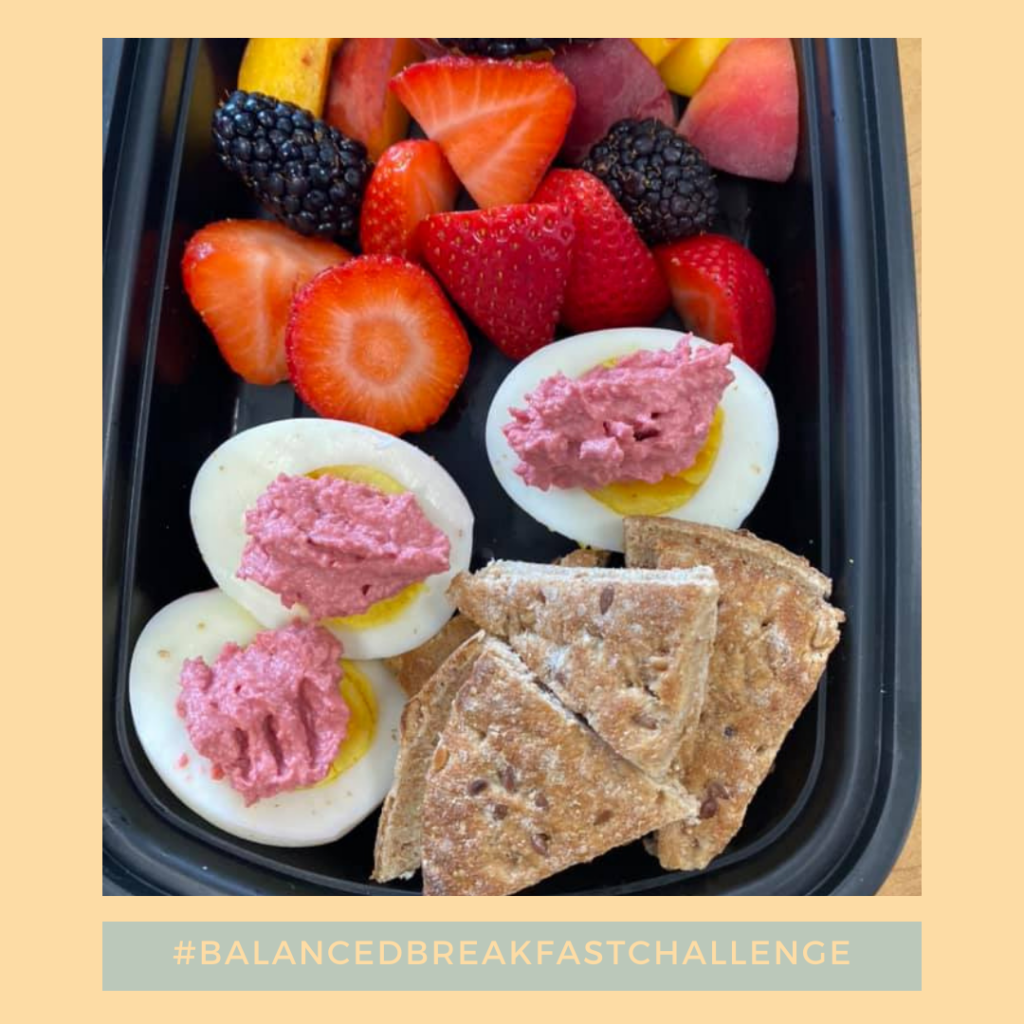 Nutrient Packed Morning Cereal by Ann D.
Kashi go flow cereal

Berries

Pumpkin seeds

Almond milk
Probiotic Protein Smoothie by Kristie M.
Kiefer 

Blueberries

Peanut butter
Quick Protein Breakfast Box by Wanda M.
2 hard boiled eggs

Beet hummus

Whole grain flax seed crackers

Fresh fruit
Almond butter banana wrap by Ann D.
Whole grain tortilla/wrap

Banana

Almond butter

Chia seeds

Hemp seeds
Ricotta strawberry waffles (protein packed) by Jillian B.
Kodiak Power waffles

Ricotta cheese

Strawberries
 On The Go Nutrient Booster Smoothie by Ann D.
Spinach

Kale

Blueberries

Strawberries

Hemp

chia seeds

fresh ginger chunk

little chunk of banana 

almond milk
Breakfast Toasts, Sandwiches, and Pancakes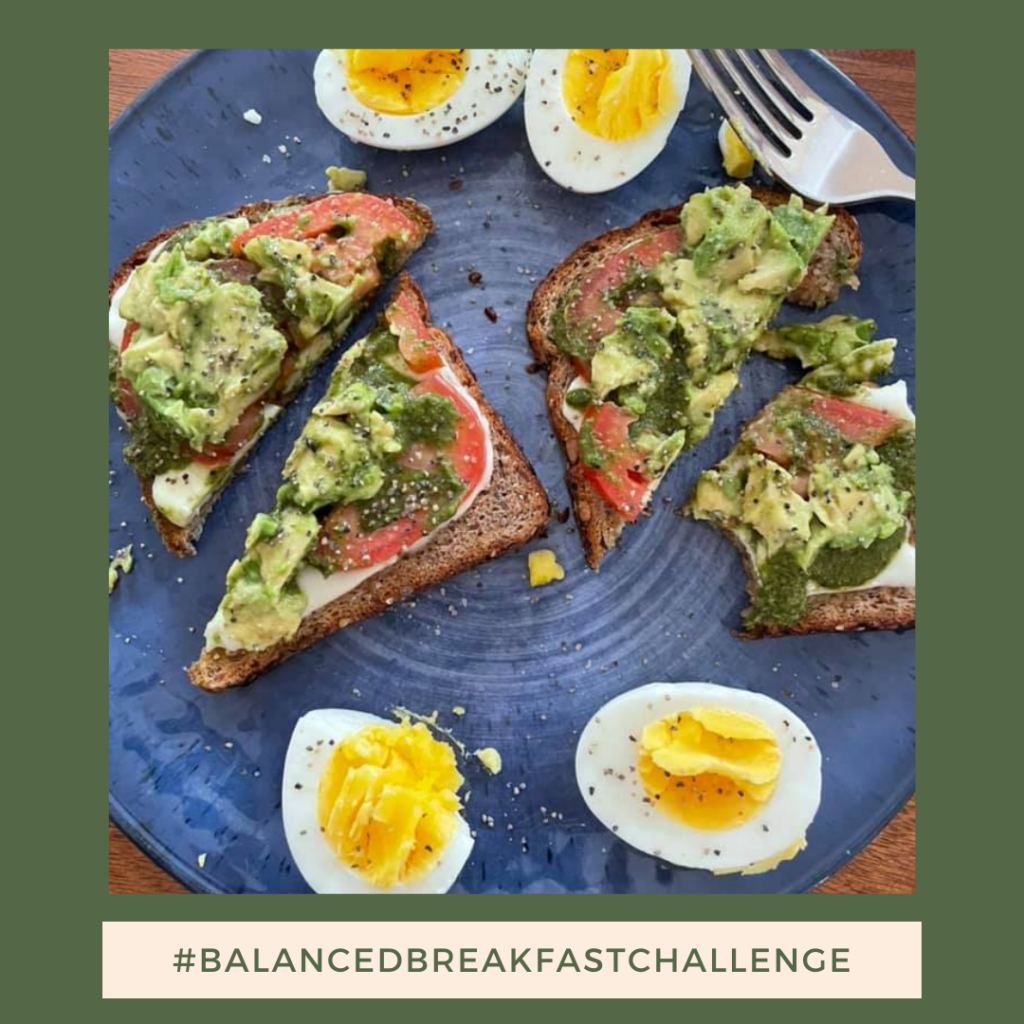 Protein Packed Sriracha Breakfast Sandwich by Allison M.
Chicken sausage

Spinach

Scrambled eggs

Sriracha 

English muffin
Cream Cheese Egg Toast with Fruit by Molly L.
Fried egg seasoned with oregano

Dave's killer wheat bread 

kite hill chive cream cheese

Side of fruit (mango)
Protein Hummus Avo Toast with Eggs & Fruit by Courtney B.
2 eggs

Sliced avocado

Roasted red pepper hummus

Hemp hearts

1 whole grain toast 

Strawberries and pineapple
Nutrient and Probiotic Stacked Breakfast Sandwich by Dianna S.
Whole grain toast with seeds

Eggs

Baby arugula

Fermented pickles

Ginger carrots

Avocado

Hemp and chia seeds 

Side of berries and brazil nuts
Egg, spinach, and Cheese Scramble on Toast by Louise L.
Eggs

Spinach

Swiss cheese

Whole grain toast

Tomatoes
Chocolate Chip Banana Cottage Cheese Pancakes by Kristie M.
Pancakes

3 eggs

1 cup cottage cheese

1 teaspoon vanilla extract

2 tablespoons honey or agave

1/2 cup flour

1 teaspoon baking powder

1/4 teaspoon kosher salt

 butter, oil or oil Spray

Chocolate chips

Banana slices
Full instructions on how to prepare and cook the cottage cheese pancakes here
Strawberry PB Toast by Olivia V.
Whole grain toast

Peanut butter

Strawberry slices

Chia seeds 
Omega-3 and Protein Loaded Breakfast Sandwich by Ann D.
Salmon

Cottage cheese topped with blueberries on the side

Ezekiel toast

Avocado

Poached Egg

Red pepper flakes
Vegan Avo Toast by Olivia L.
Tofu

Avo

Ezekiel English muffin
Veggie, Egg, and Chicken Sausage Sandwich by Molly L.
English muffin

Egg

Arugula

Tomato

Chicken sausage

Toasted english muffin
Pesto Scramble with Fruit and Toast by Julia M.
Pesto sauce

Butter

Eggs 

Watermelon

English muffin
The Bottom Line
I think we can all agree these recipes sound absolutely delicious, am I right?! 
A huge thank you to everyone who participated in the WellPower Method breakfast challenge! You all did amazing and I hope this challenge allows you to carry on healthful and balanced habits as the year goes on. 
Let us know if you tried any of these tasty recipes!